Top Page > Student Life > Student Column
Student Column
Student Column 1
Gabi Steinbach, majoring in Physics at TU Chemnitz in Germany.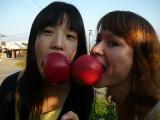 (Gabi is pictured on the right)


I just can say THANKS to all the members of the NUPACE team! From the very first moment there was a familiar atmosphere that made a comparatively easy start possible- into a world which was totally different from what I had known and experienced before. Of course it took some time to get used to and understand the Japanese lifestyle. Coming here with almost no Japanese language skills, the language barrier, not least of all, made everyday a challenge- not only in finding my own way around but also in making contact with the Japanese. But for this, the language programme, although really quite tough, offered a "shinkansen speed-like" introduction. Even after a few weeks I could make my first friends without using any language other than Japanese!
Apart from Japanese, I also enjoyed becoming friends with people from all over the world: Usually in the evenings we gathered together in the lobby of Ohmeikan, our dormitory, to have fun together (lots of parties or just sitting together and sharing home made national food cooked by everyone). There, upcoming discussions about everybody's country and its characteristics made some evenings a small journey around the world. Some of them inspired me so much, that, after exploring the width of Japan- from Hokkaido to Kyushu-, I made plans to travel with some of my new friends to their home country. Where could you find a better introduction to the Asian world than by the people themselves?!


Student Column 2
Okie Primatyo, majoring in electrical engineering at Gadjah Mada University in Indonesia.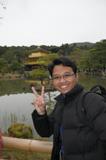 Honestly, my first experience of Japan is "Doraemon" and "Dragon Ball". Then I started watching Japanese dramas and listening to J-Pop. From them I could see how great, interesting, and amazing Japan is. That time, I realised that I really wanted to go to Japan, see Japan directly, and feel "the real Japan." I applied to NUPACE twice. My first attempt failed. After sending an application for the second time, they wrote, "I am pleased to inform you that you have been successfully admitted to the School of Engineering…" That time I heard songs from heaven.
However, when I came to Japan for the first time in April 2009, I didn't know about the Japanese language at all. But, that was not a problem because NUPACE gave me everything to be hero from zero. Really! The best thing is the Japanese language course with good materials and great teachers. The content is related to my environment, so I can learn easily. There is also a Japanese tutoring system with a Japanese student. My tutor was so nice and answered all my questions even the silliest ones. Not only could I choose a Japanese course, but also other subjects, like electrical engineering, production engineering, and many more. And thanks to NUPACE, I could do research in a modern lab. It was interesting to research about hierarchical optical network design. My professor was very warm and supportive. The Lab's members were nice too. We held parties together.
Not only is there study, but there are also parties, lots of them. I could meet Japanese and other international students. The best thing is that I can make friends from all around the world! We shared our culture, went on trips together, did some parties, and much more. I even practiced my English. And I can't forget about my home-stay program. I had the chance to make ceramics, sushi, and party together. They were fun.
So, what do you have to wait for? Go to Japan and feel the "real Japan." And NUPACE is the best programme. I mean it.

Student Column 3
Sovira Chhum, majoring in Japanese Studies at Monash University in Australia.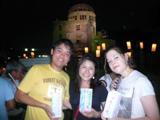 (Sovira is pictured on the left)


When I joined the NUPACE programme at Nagoya University I was really unsure about how life in Japan would turn out. But luckily there are a lot of good members of staff at the University who help you ease into life in Japan, even if you don't speak very much Japanese at all, as was the case with me. The Japanese language programme, especially the intensive programme, can be really tough since it starts in the mornings. And, since I was never a morning person, it was especially tough. But the tutor system that the university provides can really help you with your Japanese, settling into Japan, and you may even make a really close friend out of your tutor! But going on exchange I've learned doesn't benefit just your Japanese; it gives you the opportunity to make friends with people from all over the world and is also a chance for you to discover new cultures through international exchange events at the Education Centre for International Students. I must admit the first few months are always going to be tough, but it can be very rewarding in the end. The city is quiet and is not as bustling as Osaka or Tokyo, and is very close to Nara and Kyoto. So being a fan of traditional Japan, I took advantage of the location to travel all around the Kansai region and even went as far as Kyushu!
So is it worth your while coming to Nagoya University? While I can't really answer that question, the staff here is more than capable of helping you with every step of settling into your life in Japan and, despite the morning starts and all the ups downs, I have not regretted coming in the end.